A bit about me
Hi, I'm Pablo Giuliani Molinero and I'm from Zaragoza in Spain. Zargoza is located between Barcelona and Madrid, near the Pyrenees. Zaragoza is a great city because it's not overcrowded (not many tourists), there are lots of Roman ruins throughout, it's one of the few cities with 2 cathedrals and it has great public transport.
It's a very social city where people eat out a lot, you can be in a bar or restaurant with people of many ages and different cultures. Zaragoza has a wide gastronomic offering since both the sea and the mountains are very close. The cuisine in Spain varies depending on the geography, if there is sea, mountains or farming land for instance.
Today I'm going to tell you about two typical meals in Spain. When people talk about Spanish cuisine, they normally talk about paella, tortilla or tapas, but the really typical meals in Spain are very different. Two of my favourite meals are calcots from Catalonia and cocido madrileno from Madrid.
Calcots
Calcot (calçot in Catalonia) is a type of spring onion or green onion and is a typical meal all over Catalonia. Calçots are milder than onions and roughly the shape of small leeks.
When and who?
Normally the calcots are eaten on the day of Calçotada. Calçotada is an annual event in Valls, Catalonia celebrating the harvest of Calçots.
We eat them with family and friends for celebrations, on our birthdays and finishing university or school. They are always cooked in the garden as they can only be cooked in the open air, because they give off a lot of smoke.
To prepare the calcots:

Normally my father cooks the calcots in a very big grill tray. First he makes a wood fire, when the fire is burnt down a bit he puts a barbeque rack on top, the type with handles that fold over and clamp together.

Then he puts all the calcots on and pours over extra virgin olive oil. Then he clamps the top rack over and cooks until they are ready, turning once.

Once cooked, it's time to serve them and the traditional way to serve them is on a tile.
Cover the tile with baking paper
Put on the calçots and wrap them
Cover the tile with another tile and leave at least 5 minutes for the calçots to acquire that tender point that melts in the mouth.
Keep until serving time, the heat is preserved for 15 to 20 minutes.
Sauce for calcots:
The most traditional families of catalonia use romesco sauce as a companion to the calcots.
Ingredients
2 large roasted red peppers, well drained
1/4 tsp red chilli flakes
Salt to taste
2 cloves garlic
50g blanched almonds
50g hazelnuts
75ml exra virgin olive oil
1 slice of sourdough bread
1 tbsp red wine
1 large tomato, peeled
How to eat the calcots: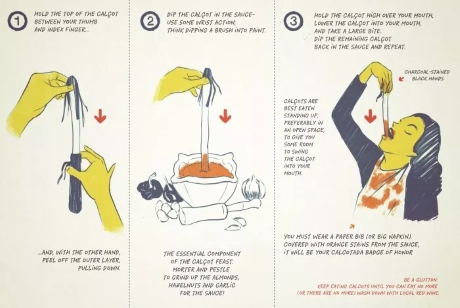 Illustration by David Navas for www.foodrepublic.com/2016/03/16/what-are-calcots-and-how-do-you-eat-them/
Hold the top of the calcot, peel down the outer layer and remove it. Next comes the good bit, dip it in your romesco sauce, tip your head back, eat and enjoy. It's important to eat it like this because there are lots of juices, that you would lose on a plate. It's difficult and messy!
Now you know all about calcots be sure to try them next time you are in Catalonia, but now we move to Madrid and cocido madrileno.
Cocido madrileno
Cocido madrileno is a traditional chickpea-based stew from Madrid in Spain. It's a substantial dish prepared with meat and vegetables. It can just be called cocido or madrileno.
The cocido it is very simple to cook and it is usually served in individual casserole dishes, accompanied with bread and red wine. It is served with a soup which you can eat or pour on the chickpeas.
So what's in it?
The main ingredient of cocido is the chickpea or garbanzo. Vegetables are added: potatoes mainly, but also cabbage, carrots, and turnips.
The meat used is pork belly, usually fresh, but sometimes cured, fresh chorizo, onion, morcilla (blood sausage or black pudding in the UK), and dried and cured serrano ham. Beef shank and chicken are also added.
For some recipes, the final touch is the bola, a meatball-like mix of ground-beef, breadcrumbs, parsley and other spices.
When and who?

Madrileno stew is eaten as a family on Sundays in winter, it began to be popular after the civil war as it was served to replenish forces with all the food that they needed.

In Madrid it's usually eaten every Sunday (in winter) but in my family we have it maybe twice a month. It's a family occasion with grandparents, aunts and uncles and cousins. There's a great atmosphere with lots of talking and drinking wine.

Because its eaten in several stages it takes a long time to eat. We normally start eating around 3pm and continue until 5.30 - 6pm!
Click here for the full recipe
you'll be amazed at how nutritious it is, no wonder they ate it after the civil war.
Enjoy
I love these meals because you eat them with family and friends, you cook together, and it makes it a very happy time.
I hope you will try these meals with your family and friends and enjoy them as much as I do.
Love this? Get blogs and more in your inbox
Subscribe to receive our blogs plus each weeks featured ingredient, recipe and nutrient in your inbox
Thank you for registering