Keep your immune system in tip top shape!

With coronavirus still hanging around, it's essential to make sure your immune system is at it's best, as we head into autumn.

Now, the first reaction of most people is to reach for a bottle of multivitamins. In fact, over the past couple of week's I've been getting all sorts of emails in my inbox telling me to buy specialist supplements because I can't possibly get enough nutrition from my food!
But
research
has shown that most mineral or vitamin supplements have no clear benefits and may even be harmful.

So, what do you do? Well, if you know which nutrients are good for your immune system, you just need to make sure you're getting your recommended daily amount (RDA) of these.
And i
f you know what to eat to boost your immune system, you can shake it off so much quicker.
So, which nutrients are they and how much* do you need?

Now, knowing the amount is pretty meaningless unless you know what the best foods to get those nutrients from are. So, below is a quick checklist of the nutrients above and some of the top foods for them. I've made sure to include some vegetarian options when necessary.

For more detailed information and all the foods with these nutrients click on the nutrient name above, scroll to the bottom of the page and click on all ingredients. You can filter by fish, vegetarian and vegan as well.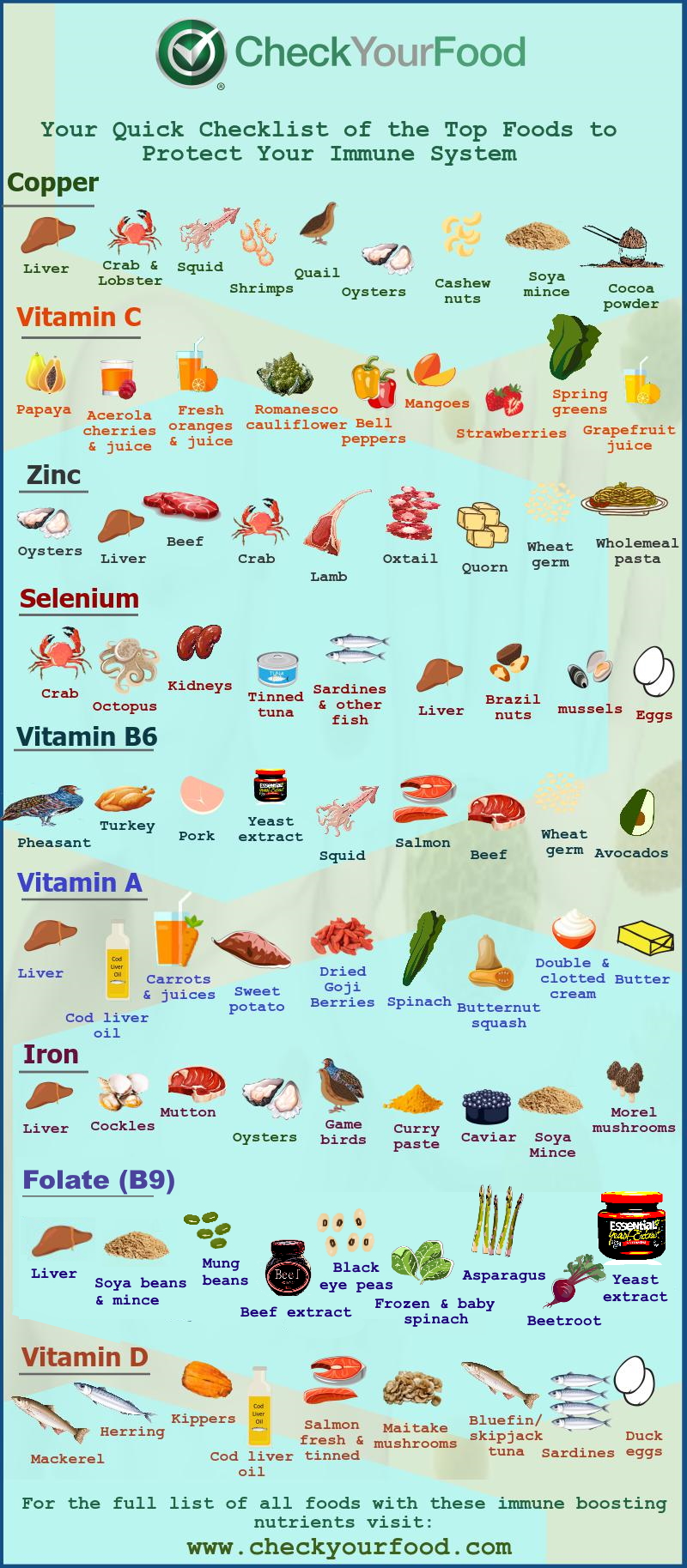 As you can see some foods are repeated more than once, so eating those will really help boost your immune system for the winter.
How can you know how much you are eating?
To make sure you are getting enough of all of the essential nutrients to keep you healthy, not only the immune boosting ones, you should really keep a food diary. One that not only tells you your proteins, carbs etc. but every vitamin and mineral.
The food diary on CheckYourFood is simple to use and cost less than £4 per month. That's less than 2 coffees!
You can even give it a go for free with our 'Free for Life' account . Just click below to get started.
I'd love to start my 'Free for Life' account now!
*These are amounts for an average adult.
Love this? Get blogs and more in your inbox
Subscribe to receive our blogs plus each weeks featured ingredient, recipe and nutrient in your inbox
Thank you for registering