It's British tomato fortnight starting today, so we thought we'd celebrate this jewel of a vegetable
Or fruit if you want to be technical about it.
Tomatoes are the fruit of the vine, just as are cucumbers, squashes, beans and peas, and not vegetables at all!
Tomatoes come in a large variety of shapes and sizes from big beef tomatoes to oval shaped plum tomatoes to cherry tomatoes. They come on the vine, loose, tinned and dried, and are probably one of the most used vegetables in cooking today.
The recent re introduction of heirloom tomatoes means that we also see them in all sorts of colours and even stripy!
So, are they good for you?
Tomatoes are a good source of vitamin C, but their most potent nutrient by far is lycopene, with an 80g portion giving you:
• 138% of your RDA (recommended daily amount) for raw tomatoes
• 220% of your RDA when made into a sauce
And an outstanding 307% of your RDA for just 10g of sundried tomatoes!
That's all well and good I hear you saying but what is lycopene and what does it do?
Lycopene
Lycopene is a carotenoid (carotenoids are the yellow, orange and red pigments that plants create) phytochemical.

Carotenoids are best absorbed with fat in a meal. Chopping, puréeing, and cooking carotenoid-containing vegetables in oil generally increases the bioavailability of the carotenoids they contain*.

So, make free with that olive oil!
What does it do?
• Studies have shown that higher intakes of lycopene (mostly found in tomatoes and tomato products) may be associated with a reduced risk of prostate cancer*
• Studies have shown that people with a higher intake of carotenoids in particular lycopene, suggests a reduction in the risk of lung cancer*
• Other studies have shown that high levels of carotenoids in the blood reduce the chance of heart disease caused by thickening of the arteries*
A few tomato rich recipes to celebrate British tomato fortnight
There are numerous tomato recipes on CheckYourFood, I've picked our favourite 5 tomato rich recipes for you, starting with:

Tomato tart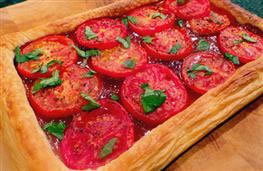 This super tart has a great combination of nutrients that will look after your heart and bones, give you energy and may protect against allergies and some types of cancer.


Serves: 4
Prep Time: 10 Mins
Cooking Time: 60 Mins
Allergens: Gluten, Milk


Ingredients
15g fresh basil leaves
320g Ready rolled puff pastry
30ml Rapeseed oil
300g Red onions sliced
Salt and pepper to taste
400g Organic tomatoes
Tomato soup is one of the best comfort foods and this one has a good dose of vitamin A, fibre, vitamin C and vitamin K along with the lycopene. Sprinkle with some torn basil leaves for a flavour boost.

Serves: 4
Prep Time: 10 Mins
Cooking Time: 25 Mins
Allergens: Sulphur dioxide, Celery, Gluten, Sulphur dioxide
Ingredients
1g/2 bay leaves
70g/1 small carrot
100g/1 celery stick
100ml of cider vinegar
30g/2 tbsp olive oil
100g/1 medium onion
Salt and pepper to taste
1kg ripe tomatoes
12g/2 tsp tomato purée
1.2 litres veg stock made up with 2 stock cubes
12g/2tsp sugar
Click here for the method and full nutrition
Tomato ragu pasta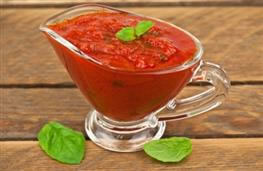 This is a fabulous sauce to use as a base for other ingredients. Try adding chopped fried bacon and chilli flakes for an amatriciana, or capers and anchovies for a puttanesca or minced beef for a Bolognese.

Serves: 4
Prep Time: 20 Mins
Cooking Time: 120 Mins
Allergens: Gluten, Celery
Ingredients
20g/handful of basil leaves
1g/3 bay leaves
140g/2 carrots
100g/2 celery sticks
75ml/5 tbsp olive oil
200g/2 onions
Salt and pepper to taste
300g spaghetti
400g tin of tomatoes
30g/2 tbsp tomato purée
500ml/1 glass of water
Click here for the method and full nutrition
Cod butterbean and tomato stew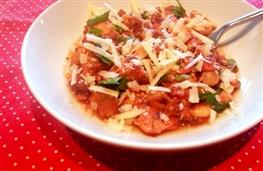 A Spanish inspired one pot meal to support your growth, development, reproduction, metabolism and normal thyroid function along with helping the healthy duplication of your DNA.

Serves: 2
Prep Time: 10 Mins
Cooking Time: 25 Mins
Allergens: Sulphur dioxide, Milk, Lactose, Fish
Ingredients
300g/3 cod fillets
1 can butter beans
1 can tomatoes
4 rashers of streaky bacon
110g/1 medium red onion
10g/handful of chopped parsley
80ml/good slug of dry white wine
Big pinch of salt
½ tsp black pepper
20g Parmesan, shaved
2 tbsp extra virgin olive oil
Click here for the method and full nutrition
Chicken stuffed with goats' cheese & cherry tomatoes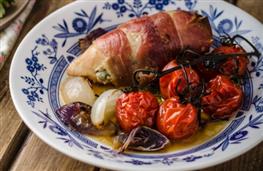 A great light supper for your cell health, energy production and keeping the acid/alkaline balance of your body healthy
Serves: 4
Prep Time: 10 Mins
Cooking Time: 30 Mins
Allergens: Sulphur dioxide, Milk, Lactose
Ingredients
600g/4 chicken breasts
150g hard goats' cheese
500g cherry tomatoes
4 slices prosciutto
150g red onion quartered
10g/bunch thyme
250ml/lge glass white wine
25ml olive oil
Salt and pepper to taste
Click here for the method and full nutrition
Conclusion
So, now you know that's it's the lycopene that makes them so good for you, I hope you enjoy the recipes and if you've got a great tomato recipe, please let us know in the comments below.

Are you getting enough lycopene?
The best way to make sure you're getting enough lycopene and other nutrients in your diet is to keep a food diary that shows you if you're reaching your RDAs on a daily, weekly and monthly basis.




RDAs (recommended daily amounts) based on an average adult

* Reference:

LPI science on Lycopene

- this link leads to a site provided by the Linus Pauling Institute (LPI) at Oregon State University (OSU). CheckYourFood is not affiliated or endorsed by the LPI or OSU

Love this? Get blogs and more in your inbox

Subscribe to receive our blogs plus each weeks featured ingredient, recipe and nutrient in your inbox

Thank you for registering