Can you be addicted to cheese sauce?
I've never been a cheese fan; I didn't grow up eating it and would only eat lasagne if I scraped the melted golden cheese off the top!
How times have changed!
Since realising a few years ago that I was severely lacking in calcium, I started eating cheese. I'm still working up to the blue stuff and prefer cheese melted or grilled, but I'm eating it.
In an omelette here, grilled there, and in cheese sauce here, there and everywhere. I can't get enough of it!
I'm addicted!
There are worse addictions to have I know, and now that even more
research
points to the possibility that dairy lowers your risk of a cardiac incident, you could even argue it's good for me. Check out how good
cheddar cheese is here
.

So, I'm going to share with you my failsafe cheese sauce recipe, no sticky roux's just a quick simple no nonsense method.
Simple cheese sauce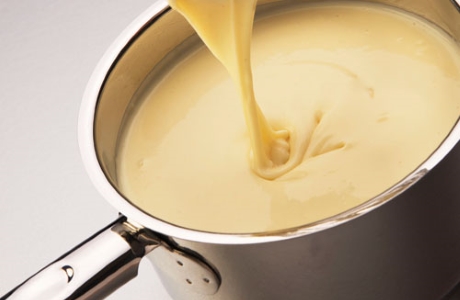 Ingredients
400ml whole milk
200g mature cheddar, grated
1 tbsp plain flour
Salt and pepper to taste
20g butter

Method
1) Place butter, milk and flour in a saucepan over a medium heat and whisk until starting to thicken.
2) Turn down the heat and add the cheese, stir until melted.
3) Check the seasoning and serve as needed.
Note: if you are using your sauce to pour over vegetables fish etc. and will then be putting it in the oven, add half of the cheese at step 2 and sprinkle the other half over before baking.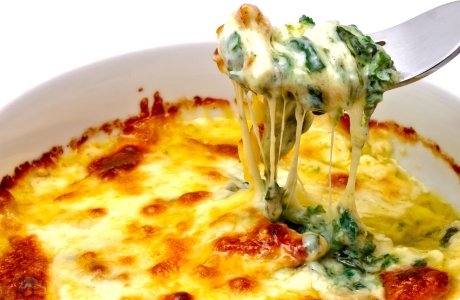 A quick power packed meal for your blood, heart, thyroid, arteries and bones.
Ingredients
Small smoked haddock fillet
¼ pint whole milk (preferably organic)
80g baby spinach
Salt and pepper to taste
15g salted butter
Tbsp white flour or sorghum flour for gluten free
60g mature cheddar, grated

Another version of this is to cook some frozen hash browns in the oven, then top with the haddock Florentine. It's delicious and led me to develop the following recipe for some vegetarian friends who were visiting. They loved it!
Smokey mushroom hash bake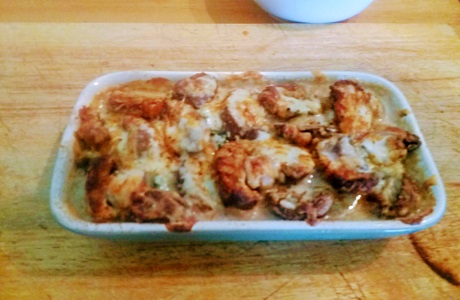 Great for your cells, bones and energy!
Ingredients
700g chestnut mushrooms thickly sliced
360g spinach
1tbsp garlic paste
16 hash browns
200g cheddar cheese grated
400ml whole milk
1tbsp plain flour
20g knob of salted butter
Salt to taste
Sprinkle of smoked paprika
Black pepper to taste
Cod and cauliflower cheese bake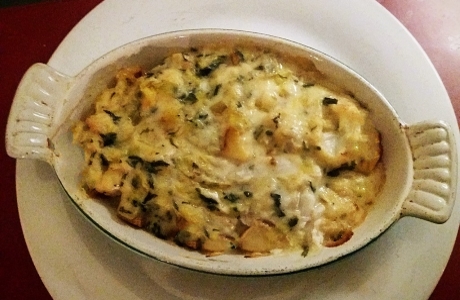 Look after your heart and cells with this quick midweek supper dish. This is a great meal to make with left over cauliflower cheese and a freezer staple, frozen cod fillets.

Ingredients
4 x 150g cod fillets frozen
450g cauliflower, broken into very small florets
200g mature cheddar, grated
200g leeks, washed trimmed and sliced
350ml whole milk
2 tbsp white flour
40g salted butter
Salt and pepper to taste
And finally
Spinach leek & bacon cauliflower cheese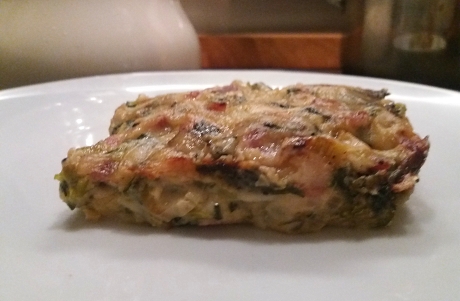 Boost your blood, bone and artery health along with support for your eyesight and immune system with this very savoury dish.

Why make an ordinary cauliflower cheese when you can make this?
Ingredients
350g cauliflower, roughly chopped into small pieces
140g streaky bacon, chopped into thin strips
100g baby spinach
120g leeks, washed and sliced
160g cheddar cheese, grated
40g unsalted butter
300ml whole milk
1 tbsp plain flour
2 tbsp olive oil
Salt and pepper to taste

I hope you enjoy these recipes and if you can think of any other great uses for cheese sauce please let me know, I'm all ears!

Love this? Get blogs and more in your inbox
Subscribe to receive our blogs plus each weeks featured ingredient, recipe and nutrient in your inbox
Thank you for registering