Leeks are Back!
British leeks are available all year round (except June), but the peak times for them are the spring and autumn. So, if you've wondered why you didn't see them in the shops last month that's why! But no worries, its July so they're back, which is great news for us as leeks are great in so many dishes. Our favourite recipes are below, but a few facts first.


Did you know?
Leeks are part of the onion family but have a milder flavour and a lovely smooth texture when cooked.
The name 'leek' came from the old English word lēac , garlic also comes from this word - gār-lēac.
1

Leeks have been cultivated since the time of the Ancient Egyptians.
The Roman Emperor Nero ate so many leeks that he was given the nickname Porophagus (leek eater); he thought that eating leeks would improve his singing voice!
2
Leeks along with daffodils are symbols of Wales. According to one legend, King Cadwaladr of Gwynedd ordered his soldiers to identify themselves by wearing leeks on their helmets in an ancient battle against the Saxons , which they won, that took place in a leek field!
3


So, are they good for you?
100g of leeks sautéed or in a soup or stew are a great source of lutein and zeaxanthin with 91% of your RDA (recommended daily amount).
4
What are lutein and zeaxanthin?
Lutein and zeaxanthin are carotenoid phytochemicals that absorb light; In particular they absorb blue light which may protect our eyes from damage and macular degeneration.

Lutein may also contribute to our ability to continue to use skills, knowledge and experience into old age (crystallized intelligence).

A recent study has shown that diets rich in lutein and zeaxanthin along with beta carotene, folate and vitamin K1 significantly reduces cognitive decline.

Other studies have shown that people with a higher intake of carotenoids in particular lutein and zeaxanthin have a significant reduction in the risk of lung cancer.


They are also a good source
5

of:
Vitamin B6: For your immune system, brain and blood health, reduces tiredness and fatigue and supports healthy hair.
Thiamin (B1): Which contributes to your heart function, energy creation and the maintenance your mental and emotional state.
Vitamin C: Which protects your cells, supports your immune system, contributes to your skin, blood vessels, bones and organs and reduces tiredness and fatigue.
Vitamin K: which is essential for blood clotting and plays a key role in your bone health


Cooking Leeks
Leeks are really versatile. They can be eaten raw, pan fried, sautéed, stir-fired, baked/roasted and braised.


Our favourite recipes;
Leek and potato soup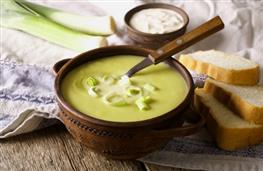 No leek recipe collection would be complete without a classic leek and potato soup.
What's so great about this soup is that it's equally nice hot or cold. If you are going to have it cold add some cream, a chicken stock cube and a pinch of nutmeg to turn it into a vichyssoise.
Serves: 2
Prep Time: 5 Mins
Cooking Time: 20 Mins
Allergens: Milk, Lactose
Ingredients
40g salted butter
275 grams of organic leek tops - rinsed
380g/1 large potato
Salt and pepper to taste
800ml water
Click here for the method and full nutrition
Caramelised Leek Tart Tatin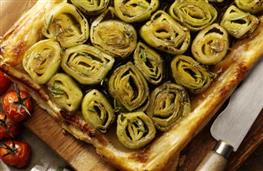 This impressive tart is really easy to make with all of the cooking done in the oven and no need for re frying of the leeks!
Serves: 4
Prep Time: 20 Mins
Cooking Time: 110 Mins
Allergens: Sulphur dioxide, Milk, Lactose, Eggs, Gluten
Ingredients
Roughly 8 large leeks, green tops removed and chopped to 3cms lengths
A few knobs of butter, approx 40g
4 tbsps olive oil
1 tbsp golden sugar
1 bunch fresh lemon thyme
2 tbsp balsamic vinegar
1 sheet of ready-rolled puff pastry
1 egg beaten
Click here for the method and full nutrition


Swampy chicken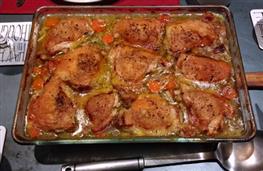 A fab braised chicken on a bed of carrots and leeks dish that is just as good made with duck leg quarters.
This makes a great dinner party dish as it's so simple, leaving you plenty of time for making the rest of the meal.
Serves: 8
Prep Time: 10 Mins
Cooking Time: 90 Mins
Allergens: Sulphur dioxide
Ingredients
900g/8 large carrots
500ml chicken stock
1kg/8 leeks, trimmed
Salt and pepper to taste
450ml dry white wine
8 med leg and thigh chicken portions
Click here for the method and full nutrition


Leek wild mushroom and parmesan pappardelle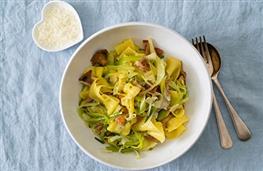 This recipe is great for midweek supper and can be made vegetarian by leaving out the prosciutto.

Serves: 4
Prep Time: 10 Mins
Cooking Time: 20 Mins
Allergens: Milk, Lactose, Gluten

Ingredients
80g prosciutto or parma ham, sliced into ribbons
450g leeks, trimmed and sliced into thin strips
1 clove garlic, crushed
10 chives, finely chopped
25g butter
30g parmesan, grated
500g pappardelle
approx 30ml olive oil
170g shitake mushrooms, such as shitake torn into small pieces
Click here for the method and full nutrition


Creamed leeks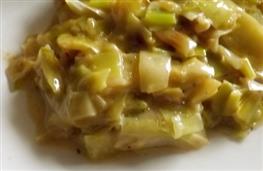 Leeks make a great side dish and adding a bit of cream takes them into the luxury steaks.

Serves: 4
Prep Time: 10 Mins
Cooking Time: 15 Mins
Allergens: Milk, Lactose
Ingredients
50ml Double cream
500g/2large leeks, cut in half lengthways and sliced in 1cm chunks
Salt and pepper to taste
50g butter

If you've got children who are not keen on onions, then mild leeks are a great alternative.

I had a real dilemma choosing just 5 recipes, as there are so many good recipes on CheckYourFood. If you want to find more, search for leeks, and click on the Recipes tab to see all the recipes on the site. All with full nutrition!

If you've got a great leek recipe that you'd like us to feature, please let me know in the comments below.

Love this? Get blogs and more in your inbox
Subscribe to receive our blogs plus each weeks featured ingredient, recipe and nutrient in your inbox
Thank you for registering